About Di Reed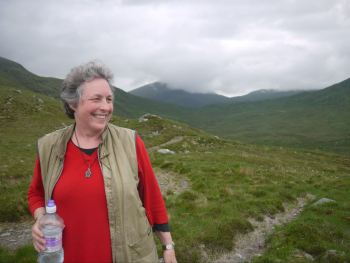 Di Reed moved to the Isle of Lewis in 1994 with her husband, two children, two cats, two dogs, twenty-two fish and a bump. Her third child was born on the island.
Di has lived and worked here ever since, as a commercial writer, as a cook and as a painter of stones. Until Covid-19, Di and husband Mike co-organised The Craft Market, a weekly summer event held in Stornoway and Tarbert on the Isle of Harris. this has now moved online, awaiting the return of live events.
From her tiny office overlooking Loch Odhairn (Hell's Mouth, named for the treacherous currents at Keboch Head) Di has written several novels and is currently preparing a third Hebridean book, Dolly Cutag, for publication.
Celtic Fringe, the first novel in a series about Hebridean life, was inspired by the experience of moving from an urban environment to a remote rural community; Royal Macnab draws on Di's experiences as a cook on sporting estates in Lewis (Grimersta & Garynahine), Harris (Amhuinnsuidhe Castle) and North Uist (The Round House).